Pull-behind trailers come in a variety of sizes, weight classes and features. Whether you're using a lightweight trailer to haul a few personal items, or pulling a livestock trailer, a boat trailer, or camper, it's important that the trailer has been wired correctly.
Using the right wiring and connectors will help ensure the safe and reliable operation of lights, batteries, brakes, turn signals, and other trailer functions such as interior lighting, entertainment systems and refrigeration. The more complex your trailer's wiring, the more likely you will need to consider specialized connectors that are built to handle multiple pins and are resistant to corrosion.
Color Codes for Trailer Wiring
A good place to start is by getting to know the industry-standard color codes for trailer wires. Green is for the right turn signal. Yellow is for left turn signal. White is ground, and brown is for the trailer's taillights. These four types of wires together constitute what is known as "four-way wiring." Four-way wiring is quite common and is suitable for most light-duty trailers and boat trailers.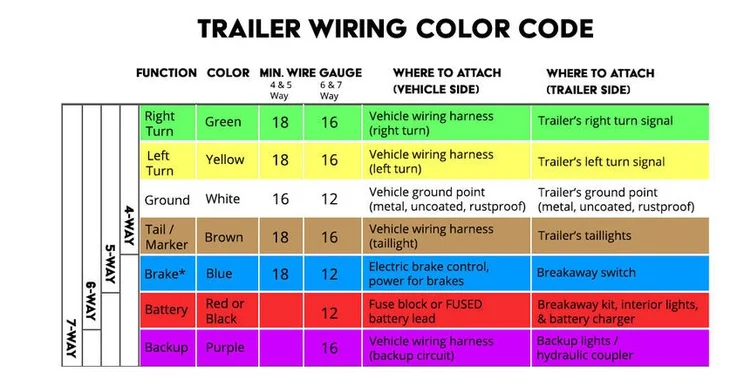 chart showing typical trailer wiring configurations and wire colors. Chart courtesy of East Penn  Manufacturing.
Five-way wiring, the next level, includes the four wires for the turn lights, ground, and taillights, as well as a fifth wire (colored blue) for an additional function – typically for surge brakes built into a trailer or camper. The fifth wire will typically be tapped into your vehicle brake light to ensure that when you activate your vehicle brakes, the trailer brake lights also light up. The wire is also tapped into the backup lights to trigger the disengagement of the trailer's braking system.
Six-way wiring includes a sixth wire (typically red) that is used for a fuse block or fused battery lead. This wire will typically run to a fuse block breakaway kit, trailer interior lights or a battery charger. It can also be used for electric brakes. Six-wire configurations are commonly found on horse trailers, for example to run a fan.
Finally, seven-way wiring (purple) provides yet another wire for hooking up things like hydraulic couplers.